The 2022 Subaru Love Promise Community Commitment Award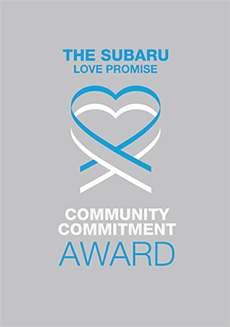 We've been nationally recognized for our dedication to our community and the Subaru Love Promise.
We're honored to receive the 2022 Subaru Love Promise Community Commitment Award. This award nationally recognizes Subaru retailers who are making the world a better place while demonstrating an outstanding commitment to supporting passions and causes in local communities. These efforts are focused in important areas such as the environment, community, health, education, and pets.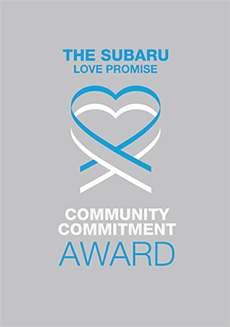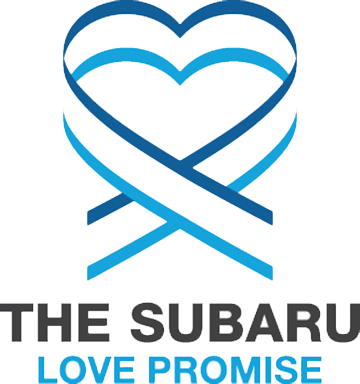 What is the Subaru Love Promise?
Subaru and our retailers believe in making the world a better place and the Subaru Love Promise is our vision of respecting all people. This is our commitment to show love and respect to our customers and to work to make a positive impact in the world.
How is Subaru of Puyallup dedicated locally to the Love Promise?
At Subaru of Puyallup, we take great pride in being about to serve our local community. Our Love Promise can be seen in various partnerships with local charities and non-profits. We're grateful for the opportunity, not only to be a part of our community, but to serve it as well.
Sunny Sky's Animal Rescue
Permission to Start Dreaming Foundation, The Wishing Well Foundation, NW Furniture Bank, Step by Step
Good Samaritan's START Unit
Love Promise Stories from Subaru of Puyallup
Subaru and Subaru of Puyallup believe in making a positive impact on the communities in which we live and work. We uphold that belief through our Love Promise Community Commitment. Every month, we select inspiring stories from customers and partners from around our area who strive to support our collective commitment and feature them here
STEP BY STEP FOUNDATION - Janel T
Step By Step has been honored to be a recipient of the Subaru Share the Love campaign for the last two years. The contributions that we've received from this campaign have been an incredible blessing to our organization! These funds bring hope and health to mothers, babies, and their families – across three counties. In addition to the monetary gifts, the team and staff at Subaru have been so kind and supportive of our work. They consistently look for other ways to get involved and serve their community. It's what a true partnership should look like! We continue to be deeply appreciative of their generosity and look forward to future collaborations with their team.
---
Celebrating Women's History Month - Natalie S
This March we celebrated Women's History Month at Subaru of Puyallup. Women bring a different perspective and skillset and we wanted to really recognize the work that they do and their unique abilities that they bring to the dealership. Each day we highlighted a different woman that works here on our social media pages and gave them each the opportunity to share a little about themselves and what they love about working in the auto industry. It is so important to share the value that women bring to the dealership and so we also put together a video highlighting our female employees from all five of our dealerships in all different kind of positions to demonstrate that there is always room for women and that the auto industry and Subaru of Puyallup wouldn't be the same without them here. Thank you to all the ladies for the hard work that they do - we wouldn't be us without you! "The auto industry has so many unbelievable opportunities for women whether it's in service, sales, marketing, accounting, finance and more. The most important thing is for women to not be afraid of the industry - retail is retail no matter what you're selling. We are so blessed that we get to build opportunities for women to thrive in the auto industry at Harnish Auto Family" - Shannon Harnish, President of Harnish Auto Family.
---
Random Act of Kindness - Valentine's Day - Darrin S
Every year, Subaru of Puyallup has a "Random Act of Kindness" day where they reach out to members of the community and find a way to celebrate them and the work they do. This year, employees from Subaru of Puyallup went to Pierce Central Fire & Rescue, their next door neighbors. As their random act of kindness they came to us on Valentine's Day with pizzas and sodas as a lunch treat! They gave their thanks to Central Pierce Fire Station and all that they do to serve the Puyallup area. "When we thought of who compassionately serves our community we immediately thought of Subaru of Puyallup." - Captain Darrin Shaw.
---
SUPPORTING LOCAL BUSINESSES, DRIVE & DINE EVENT - Diana N
The DRIVE & DINE EVENT idea was born in response to the devastating impact that COVID-19 had on our neighboring local businesses back in December of 2020. 50 gift cards [per store] were purchased from random at-risk restaurants and given to clients who took a test drive. The gift cards ran out fast. The restaurant owners whose restaurants had been a part of the project gave such amazing feedback. It was clear that it needed to be done again! Come January 6th 2022, the 2nd Annual Drive & Dine Event was launched with the same intent of supporting neighboring local businesses. 400 $25 gift cards were purchased from 4 local restaurants in the Puyallup WA area (100 gift cards per store). This totaled $10.000 in gift cards to distribute to customers who took test drives, no purchase necessary. The partnering businesses were: - Puerto Vallarta Restaurant - Mrs. Turners' Restaurant - Playa Azul Restaurant - The Loose Wheel Bar & Grill, all in Puyallup By January 24th 2022, only 67 gift cards were remaining. On January 25th 2022, the gift cards were running out fast, another 40 gift cards were purchased so as to fulfill the promised end date of 01.31.2022. The feedback shared by the restaurant owners involved was such a beautiful wrap to the end of the event and the month as a whole: "We are excited about the customers we are receiving as a result of the Drive & Dine event." -Lydia with Puerta Vallarta "We can attribute 10 large parties directly to the Drive & Dine Event, Thank you!" -Mariel at Playa Azul
---
13 Blankets - Hayley U
For Jesse, on of our neighbors experiencing homelessness, 13 was the number of blankets he needed to keep warm while trying to survive in a tent during the cold, wet winter. "You need food, you need to stay warm and you need to avoid the people who might want to steal your tent, or who are willing to go to any length just to survive themselves," Jesse shares. One of Jesse's friends who had lived in a tent next to him already died. Another day, someone stole all of his blankets. The blankets donated by Subaru of Puyallup helped replace Jesse's stolen blankets. Offering him those blankets was the foundation for a trusting relationship. Eventually, he accepted the offer to come to the Tacoma Rescue Mission for hot food, safe shelter, and life-changing care. Jesse may not have survived without the donations of friends like you. Thank you for helping to save and change lives!
---
The Story of Jack - charana g
We meet some animals that seem to tug at our hearts a little harder than others, and one of those is Jack. When Jack came to Sunny Sky's, he came from a family who had a member move without taking him along. Jack was not receiving the love and attention he deserved, and needed some dental work done, so the family turned to Sunny Sky's. Being ten years of age, some would feel Jack was too old to have much of a life left. No one told Jack that! He still loves his car rides (front seat only, of course), barks with excitement over anything and everything, and simply was craving a new forever home. Jack came to several adoption events, and didn't seem to get a lot of interest, even though he was on his best behavior with a wagging tail and a welcoming bark. Thanks to the good people at Subaru of Puyallup, along with our other amazing sponsors, Jack found his forever family in October, bad teeth, advanced age and all. Jack is one of the success stories that keeps the Sunny Sky's volunteer team motivated to love and care for these pets. We appreciate our sponsors so much, so please accept this thank you once more.
---
Turning Houses into Homes - Jeremy S
Imagine working a full day to come home to two hungry teenage boys and a house devoid of furniture. You muster enough energy to make some dinner and then proceed to eat sitting on the floor. Then imagine telling those two boys that they'll have to sleep on the floor another night because you can't afford furniture. NW Furniture Bank makes houses into homes. "I literally stopped by the side of the road and picked up four milk crates cause I thought 'I can use those to sit on.' We had nothing. No usable furniture at all. My kids slept on a pile of moving blankets, and we made due with what we had. I never thought furniture would have an impact on my family, but after we shopped for furniture at NWFB I realized how big a deal it is." - Chris (2021 NW Furniture Bank Client). Subaru of Puyallup recognized the importance and urgency of providing people a place to sit, sleep and eat. They also recognized the restoration of hope, dignity and stability NW Furniture Bank provides when turning houses into homes.
---
Making an Impact - Masaki M
Subaru of Puyallup, headed by Chris Brown has had a profound impact on our football program at Lincoln High School (Tacoma, WA). The last few years, they have helped us, supported us, and encouraged us in many ways. They have provided tutors for our students and athletes at Lincoln at an after school program. They have funded our library so our librarian has the resources she needs to support our students. They have put on dinners for our football players and families so they can enjoy some good food while connecting with the community. They have provided funds for our football program so we can have the necessary things footballs, practice equipment, helmets and shoulder pads, and most importantly, food for our players. Some of our players, they depend on the food we provide them, especially in the summer when there's no school food provided for them. Subaru of Puyallup are constantly asking us what we need and how they can support us, and usually whenever we ask for something, they are able to come through. They have truly been a blessing and our players and the whole entire Lincoln community have been impacted by their generosity. I am truly grateful, as the head coach of the program to have the partnership we have with them and I thank God everyday for it.
---
Subaru of Puyallup donates to Puyallup Food Bank - christine o
The Puyallup Food Bank is incredibly grateful for the recent donation from Subaru of Puyallup. It is encouraging to see businesses and organizations creatively contribute to serving our community, and Subaru of Puyallup is a perfect example of one. The employees of Subaru of Puyallup hosted a fitness challenge, and the winner generously contributed the award of $750 and the dealership matched their gift for a total of $1500. On March 5th, the staff at Subaru of Puyallup presented us with their check and we are so thankful for their continual involvement in our community.
---
Subaru Loves Pets, Sunny Sky's Loves Subaru - Elly K
2020 has been a ruff year for many and an especially tough one for our small, but mighty animal rescue Sunny Sky's. Like many, the COVID-19 pandemic has had an impact on our work and our finances, we have struggled and survived only due to the generosity of our community - a community that includes Subaru of Puyallup. We're also a no-kill shelter, which means we use our resources to make accommodations for pets as long as we need to until finding them furever homes. That can include expensive medical procedures, training, and regular vet care. Earlier this year, we transitioned to a volunteer-based model and made many other cost-cutting decisions. But helping dogs, cats, and other animals in need (we even have cows, donkeys, pigs, and more) is our passion, and we just can't stop lifesaving work when life for us gets harder...a lot harder. So when SOP contacted us about becoming a partner to our shelter and rescue, it wasn't just a kind offer - it was a lifeline. They provided in-kind support, sending over $1,000 in products from our wishlists (food, cleaning supplies, etc.) to Sunny Sky's; had a donation station at the dealership; brought in goodies especially for dogs; and featured adoptable pets on social media all November long. Pets like Diggs, who was once homeless and is now seeking a family after his fur mom passed away; pets like Kayson, who has waiting several months to find a home because although he's a lover of humans, he has a special need to be the only dog in a home; pets like Rupa, who is originally from the streets of Delhi, India, and a strong-willed, survivor of a dog. We are stronger because of our community. We are able to survive because of their giving. Thank you, Subaru of Puyallup, for making our doggos' days better and our horizons a little brighter.
---