The 2021 Subaru Love Promise Community Commitment Award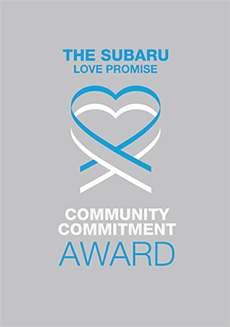 We've been nationally recognized for our dedication to our community and the Subaru Love Promise.
We're honored to receive the 2021 Subaru Love Promise Community Commitment Award. This award nationally recognizes Subaru retailers who are making the world a better place while demonstrating an outstanding commitment to supporting passions and causes in local communities. These efforts are focused in important areas such as the environment, community, health, education, and pets.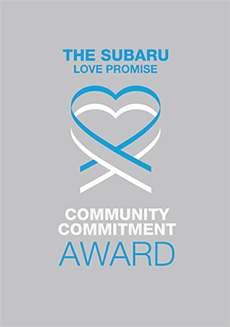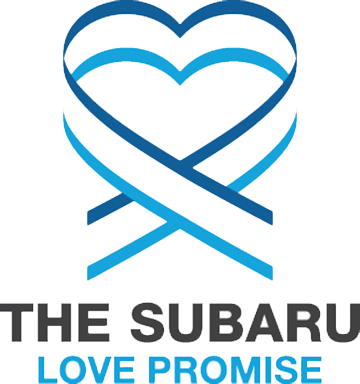 What is the Subaru Love Promise?
Subaru and our retailers believe in making the world a better place and the Subaru Love Promise is our vision of respecting all people. This is our commitment to show love and respect to our customers and to work to make a positive impact in the world.
How is Subaru of Puyallup dedicated locally to the Love Promise?
At Subaru of Puyallup, we take great pride in being about to serve our local community. Our Love Promise can be seen in various partnerships with local charities and non-profits. We're grateful for the opportunity, not only to be a part of our community, but to serve it as well.
Sunny Sky's Animal Rescue
Permission to Start Dreaming Foundation, The Wishing Well Foundation, NW Furniture Bank, Step by Step
Good Samaritan's START Unit
Love Promise Stories from Subaru of Puyallup
Subaru and Subaru of Puyallup believe in making a positive impact on the communities in which we live and work. We uphold that belief through our Love Promise Community Commitment. Every month, we select inspiring stories from customers and partners from around our area who strive to support our collective commitment and feature them here
13 Blankets - Hayley U
For Jesse, on of our neighbors experiencing homelessness, 13 was the number of blankets he needed to keep warm while trying to survive in a tent during the cold, wet winter. "You need food, you need to stay warm and you need to avoid the people who might want to steal your tent, or who are willing to go to any length just to survive themselves," Jesse shares. One of Jesse's friends who had lived in a tent next to him already died. Another day, someone stole all of his blankets. The blankets donated by Subaru of Puyallup helped replace Jesse's stolen blankets. Offering him those blankets was the foundation for a trusting relationship. Eventually, he accepted the offer to come to the Tacoma Rescue Mission for hot food, safe shelter, and life-changing care. Jesse may not have survived without the donations of friends like you. Thank you for helping to save and change lives!
---
The Story of Jack - charana g
We meet some animals that seem to tug at our hearts a little harder than others, and one of those is Jack. When Jack came to Sunny Sky's, he came from a family who had a member move without taking him along. Jack was not receiving the love and attention he deserved, and needed some dental work done, so the family turned to Sunny Sky's. Being ten years of age, some would feel Jack was too old to have much of a life left. No one told Jack that! He still loves his car rides (front seat only, of course), barks with excitement over anything and everything, and simply was craving a new forever home. Jack came to several adoption events, and didn't seem to get a lot of interest, even though he was on his best behavior with a wagging tail and a welcoming bark. Thanks to the good people at Subaru of Puyallup, along with our other amazing sponsors, Jack found his forever family in October, bad teeth, advanced age and all. Jack is one of the success stories that keeps the Sunny Sky's volunteer team motivated to love and care for these pets. We appreciate our sponsors so much, so please accept this thank you once more.
---
Turning Houses into Homes - Jeremy S
Imagine working a full day to come home to two hungry teenage boys and a house devoid of furniture. You muster enough energy to make some dinner and then proceed to eat sitting on the floor. Then imagine telling those two boys that they'll have to sleep on the floor another night because you can't afford furniture. NW Furniture Bank makes houses into homes. "I literally stopped by the side of the road and picked up four milk crates cause I thought 'I can use those to sit on.' We had nothing. No usable furniture at all. My kids slept on a pile of moving blankets, and we made due with what we had. I never thought furniture would have an impact on my family, but after we shopped for furniture at NWFB I realized how big a deal it is." - Chris (2021 NW Furniture Bank Client). Subaru of Puyallup recognized the importance and urgency of providing people a place to sit, sleep and eat. They also recognized the restoration of hope, dignity and stability NW Furniture Bank provides when turning houses into homes.
---
Making an Impact - Masaki M
Subaru of Puyallup, headed by Chris Brown has had a profound impact on our football program at Lincoln High School (Tacoma, WA). The last few years, they have helped us, supported us, and encouraged us in many ways. They have provided tutors for our students and athletes at Lincoln at an after school program. They have funded our library so our librarian has the resources she needs to support our students. They have put on dinners for our football players and families so they can enjoy some good food while connecting with the community. They have provided funds for our football program so we can have the necessary things footballs, practice equipment, helmets and shoulder pads, and most importantly, food for our players. Some of our players, they depend on the food we provide them, especially in the summer when there's no school food provided for them. Subaru of Puyallup are constantly asking us what we need and how they can support us, and usually whenever we ask for something, they are able to come through. They have truly been a blessing and our players and the whole entire Lincoln community have been impacted by their generosity. I am truly grateful, as the head coach of the program to have the partnership we have with them and I thank God everyday for it.
---
Subaru of Puyallup donates to Puyallup Food Bank - christine o
The Puyallup Food Bank is incredibly grateful for the recent donation from Subaru of Puyallup. It is encouraging to see businesses and organizations creatively contribute to serving our community, and Subaru of Puyallup is a perfect example of one. The employees of Subaru of Puyallup hosted a fitness challenge, and the winner generously contributed the award of $750 and the dealership matched their gift for a total of $1500. On March 5th, the staff at Subaru of Puyallup presented us with their check and we are so thankful for their continual involvement in our community.
---
Subaru Loves Pets, Sunny Sky's Loves Subaru - Elly K
2020 has been a ruff year for many and an especially tough one for our small, but mighty animal rescue Sunny Sky's. Like many, the COVID-19 pandemic has had an impact on our work and our finances, we have struggled and survived only due to the generosity of our community - a community that includes Subaru of Puyallup. We're also a no-kill shelter, which means we use our resources to make accommodations for pets as long as we need to until finding them furever homes. That can include expensive medical procedures, training, and regular vet care. Earlier this year, we transitioned to a volunteer-based model and made many other cost-cutting decisions. But helping dogs, cats, and other animals in need (we even have cows, donkeys, pigs, and more) is our passion, and we just can't stop lifesaving work when life for us gets harder...a lot harder. So when SOP contacted us about becoming a partner to our shelter and rescue, it wasn't just a kind offer - it was a lifeline. They provided in-kind support, sending over $1,000 in products from our wishlists (food, cleaning supplies, etc.) to Sunny Sky's; had a donation station at the dealership; brought in goodies especially for dogs; and featured adoptable pets on social media all November long. Pets like Diggs, who was once homeless and is now seeking a family after his fur mom passed away; pets like Kayson, who has waiting several months to find a home because although he's a lover of humans, he has a special need to be the only dog in a home; pets like Rupa, who is originally from the streets of Delhi, India, and a strong-willed, survivor of a dog. We are stronger because of our community. We are able to survive because of their giving. Thank you, Subaru of Puyallup, for making our doggos' days better and our horizons a little brighter.
---
Helping One Hero At A Time - Leslie M
In 2010, Subaru of Puyallup was eager to partner with the Permission to Start Dreaming Foundation helping us accomplish our mission to provide strength-based programs that address mental health and wellness care for our community's military veterans and first responders. Access to effective and transformative programs are more readily available for our community heroes because of Subaru of Puyallup's generosity. For ten years, SOP has responded with financial support, passionate volunteers, and unwavering encouragement. The foundation now offers monthly "Huddle" meetings, and quarterly leadership workshops. In 2021, we will deliver monthly progressive and alternative training for healing heroes. The mission is stronger thanks to our allies at Subaru of Puyallup.
---
Replanting Paradise Meadows at Mount Rainier - Kelly S
Washington's National Park Fund (WNPF) is extremely grateful for the $25,899.18 grant from Subaru of Puyallup and Subaru of America to Replant Paradise Meadows at Mount Rainier National Park, who sees over 2.2 million visitors each year. The vast majority of them visit Paradise, famous for its wildflowers and lush sub-alpine and alpine landscapes. These rare, conserved meadows of wildflowers spring alive with a diversity of blooms for a short six weeks each year, and this grant from Subaru will plant native plants and actively restore bare ground areas. National Park Service employees work with interns and volunteer groups to protect, stabilize, and replant sites with plants salvaged from trail improvements and native plants grown from local seed. Meadow plants are grown in the park's greenhouse, and the revegetation team salvages wild plants from rerouted trails and replant and care for them in disturbed areas of the meadows that need rehabilitation. The crew dig up the roots carefully and relocate them in bare ground areas and water for the duration of the summer—either by carrying up water, transporting by helicopter, or using an adjacent creek, if available. Mount Rainier has a robust Volunteer Program, including RAVEN (Emergency Roadside Assistance Volunteers) and Meadow Rovers, among many. During the past year 2,420 volunteers and interns contributed about 70,000 hours of service, worth about $1.7 million -- plus, of course, all of the intangible support that comes with it! Reid Ozaki is a donor to WNPF as well as a long-time VIP (Volunteer-in-Parks) for the Mount Rainier National Park Greenhouse. In his words: "As a young person in Hawaii, I was involved with the Sierra Club, participating and leading Service Project trips into remote parts of the islands. Many years later, here in Washington, I began looking for volunteer programs that would fill that part of my life. In 2005, I came across a notice of a volunteer planting day at Mount Rainier. It sounded like a good idea and I drove up to Sunrise to see what it was all about. It was a great fit.Since then, I have worked with the re-vegetation and greenhouse crews on various projects. For the last several years, I have spent most of my time with the park's horticulturist. In mid-June, the work involves transplanting seedlings sown in early spring into flats. These are carefully tended throughout the summer and are ready for transport to the restoration project sites in September. As the plants are being moved up the mountain for the re-veg crew, greenhouse duties turn to seed collection for next year's projects. The pandemic has shifted volunteers somewhat this year, and part of our work is planting sedges, grasses, and flowers to finish the restoration of the site of the Paradise Inn Annex renovation which was completed last summer. In past years, Mount Rainier has overseen the production of as many as 70,000 plants for projects around the park." Of particular, the Meadow Rover program (the park's most popular volunteer activity) contributes most directly to preserving the Paradise Meadows, drawing in more than 200 volunteers in 2019 who donated nearly 9,000 hours to make close to 200,000 public contacts. Meadow Rovers provide a priceless service to the park by patrolling the subalpine meadows above Paradise and Sunrise to educate visitors about the importance of staying on trails, keeping wildlife wild, and wilderness preparedness and safety. The information shared with visitors helps to minimize damage to the fragile meadow ecosystem while also reducing Search and Rescue incidences. Both metrics continue to improve each year since the inception of the program more than 20 years ago, proving the success and continued need for this program. WNPF's popular Virtual Field Trips (https://wnpf.org/field-trips/) will feature Beth Fallon on July 22, Mount Rainier Plant Ecologist, to present a program on meadow restoration and wildflowers, which are vulnerable to climate change and their own popularity.
---
Making a BIG impact: The Power of Book Access - Kristin S
Out of the blue it seemed, in August 2019, I got a call from a long time friend, Collin Henderson. He called to tell me he wanted to introduce me to Mr. Chris Brown, who was working with our schools' football coach to meet the needs of our student athletes. He wanted to go above and beyond this by including our students in an opportunity to meet and listen to a speaker who would energize and uplift our spirits as we kick off the year. To do this, we would need to work together to bring a dynamic motivational speaker to Lincoln High School to speak life into our players and our community. In that first phone call with Mr. Brown, I was deeply touched by his passion to support our community and to pursue practical ways to meet real needs. Through his dedication and our partnership, we were able to host best-selling author and international speaker, Dr. Rick Rigsby. The impact lasted much longer than just one day, as Mr. Brown also provided Dr. Rigsby's book for each student and a set for the library available for students and teachers to read. That day, Dr. Rigsby's words created a far-reaching and deep impact, measured through overwhelmingly positive feedback from our students, coaches, teachers, parents, staff and community members. Up to that point, we had not had a speaker or influencer of that caliber come to our school. Subaru of Puyallup, under the leadership of Mr. Chris Brown made that happen. And they weren't done yet. Mr. Brown wanted to extend this partnership far beyond what I would have ever imagined a donor would or could give. This just the beginning of what has been the single most generous source of support for our school library since Lincoln High School opened in 1912. He provided pay for after-school tutors for our students to help meet their academic needs. The measure of this provision is nearly impossible to determine. Students came to their school library on a bi-weekly basis to get personalized help, thanks to Subaru of Puyallup. One of the most significant and sure-fire ways to ensure equitable access when supporting a school is to give to the school library. The school library one place in a school building that ensures every member of the school community access to free resources, books, technology, providing limitless opportunities for connections, community engagement and self-directed learning. With these facts in mind, one would expect that the library would be a well-stocked source of new materials and books. This was not the case when I took the job as Teacher Librarian at Lincoln High School. From my first day on the job, I had this thought: "How am I going to meet the needs of my students with this collection?" The library collection at the time was aged, outdated, unkempt, and down right unappealing. There were a small amount of newer books; the majority were falling apart and outdated. Since I did not have much of a budget to speak of, I started looking into ways I could get new books. I discovered Donor's Choose, which helps teachers by enabling them to list their students' needs, sets up the ability for any donor to freely and easily give toward the goal amount, then send the items directly to the school. I started creating projects and posting them. Chris Brown gave generously to these and has fulfilled many of our book purchasing projects. Then January 2020, he wanted to do more. We had a meeting at Lincoln, where he pledged to support our library by covering costs up to yet undetermined amount. I am brought to tears by the generosity our students have experienced through Subaru of Puyallup and Mr. Chris Brown. The joy and excitement I see on their faces a daily basis as students borrow the new books we now provide is a daily reminder of the incredible impact the support of local businesses can have on the lives of children. The requests for books has increased to the point that I increased the number of check out allowances. Our library circulation is up the highest it has been in the school's history; students are reading now more than ever. Teachers bring students in on a consistent basis to get new books. Our book club has grown to nearly 100 students; we meet in the library on Wednesday mornings to connect over books and discuss the ideas, themes and thoughts that they have connected to their reading experiences. Subaru of Puyallup, through the support of our school library, is providing life-shaping experiences and opportunities for our students. It is impossible to truly measure the gift of stories and human connection books provide. The support through this partnership is the thread used to sew together the fabric of lives of the next generation and is creating a stronger today and tomorrow for our students, our community, and our world for years to come. We are forever grateful to Subaru of Puyallup and to Mr. Chris Brown for giving back to so many and for including our students and community among those they are infusing with hope and much needed support.
---
Subaru Supports Step By Step - Janel T
Subaru of Puyallup is a generous dealership in our area that strives to take an active and creative approach to giving back to the community they do business. Step By Step was honored to be chosen as their February recipient for their "Like and Share" Facebook Campaign where their generous gift will be used to help support our programs. For over twenty-three years, Step By Step has been serving low income and at-risk pregnant women throughout the Pierce, King, Kitsap and Snohomish counties serving over 1,200 women each year. Our mission is to transform the lives of at-risk pregnant women so they will deliver healthy babies, embrace positive parenting, and establish safe homes and secure futures. Our vision is that every woman would see her pregnancy as a catalyst for positive change. Not only did Subaru of Puyallup help raise awareness of our organization in the community, but their financial gift will provide critical services to at-risk pregnant women in our programs. We are greatly appreciative of Subaru's partnership and honored to be serving the community alongside them.
---